Bob's Burgers and Despicable Me 2 Artist Has Art Exhibit in LA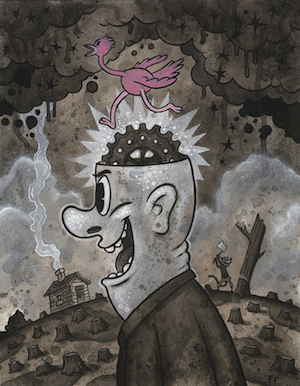 Frank Forte, a storyboard and comic book artist and founder of Asylum Press, will be showing eight new paintings as part of the Laluzapalooza Jury Winners, which coincides with the José Rodolfo Loaiza Ontiveros' Profanity Pop exhibit at La Luz de Jesus Gallery in Los Angeles, CA. The show runs August 1 – 31, 2014. Frank will be attending the opening night reception on Friday, August 1, 8-11 pm.
Frank has worked in animation for feature films, TV and gaming. His credits include Bob's Burgers, Despicable Me 2, and LEGO: Star Wars, The Empire Strikes Out.
"I'm influenced by classic black and white cartoons, old comic books and advertising art from the 1930's through the 1950's", explains Frank Forte, "I've taken all of these influences and attempted to capture a vintage feeling as well as incorporate modern themes of pop culture and surrealism."
For more information, visit La Luz de Jesus Gallery. Contact Gallery Director Matt Kennedy for availability and purchase info: (323) 666-7667. Email: This email address is being protected from spambots. You need JavaScript enabled to view it.
La Luz de Jesus Gallery
4633 Hollywood Boulevard
Los Angeles, CA. 90027

Click Images Below for a Preview: